10 Thanksgiving Bible Verses | Giving Thanks in All Seasons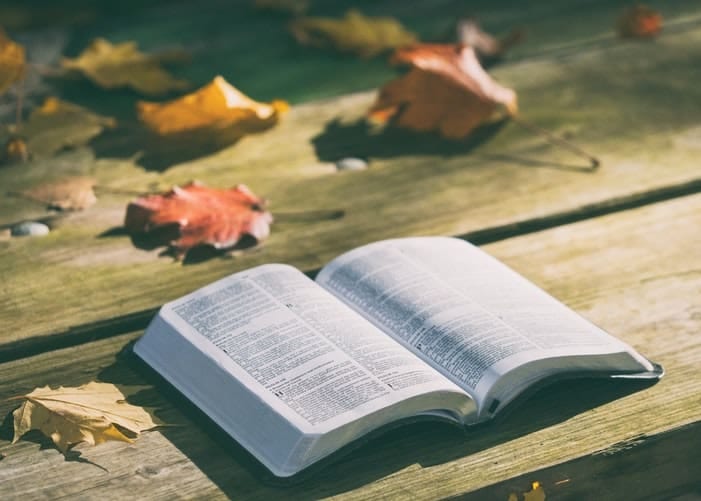 When we are faced with seasons of waiting and wondering, giving thanks may not be at the forefront of our minds. In times where we are longing for an answer to prayer or desperately clinging to peace in a storm, it can be hard to look up. But it is in these exact moments that a spirit of thanksgiving is needed more than ever. Why? Because thankfulness provides a perspective shift that turns our eyes off of ourselves and onto the Lord. Thankfulness does not require that anything change but your heart. When you turn your attention away from the challenges of life and onto the goodness of Christ, the difficulties become smaller. When you start giving thanks despite the situation, you will feel a renewed sense of hope and joy.
Those who have put their trust in the Lord have much to be thankful for. Here are some Thanksgiving Bible verses that will help you look up in any season of your life.
We can give thanks because
we are forgiven and redeemed
.
Charles Spurgeon said, "God's mercy is so great that you may sooner drain the sea of its water, or deprive the sun of its light, or make space too narrow than diminish the great mercy of God." His grace and mercy are truly amazing and unending.
1. John 1:15
"For from His fullness we have all received, grace upon grace."
2. 1 John 1:9
"If we confess our sins, He is faithful and just and will forgive us our sins and purify us from all unrighteousness."
We can give thanks because
we are His children.
God the Father not only has forgiven and redeemed us, but He calls us His sons and daughters. What an incredible gift that is!
3. Galatians 4:7
"So you are no longer a slave, but God's child; and since you are His child, God has made you also an heir."
We can give thanks because
God hears us.
Because of the sacrifice of Christ on the cross, we can approach the Father with boldness and confidence.
4. I John 5:14-15
"This is the confidence we have in approaching God: that if we ask anything according to His will, He hears us. And if we know that He hears us—whatever we ask—we know that we have what we asked of Him."
We can give thanks because
He watches over us.
God doesn't punch out for the day. He doesn't sleep or take a vacation. His eyes are ever on us. So rest assured that even when you feel alone, He is with you.
5. Psalm 4:8
"In peace I will lie down and sleep, for you alone, Lord, make me dwell in safety."
6. Isaiah 41:10
"So do not fear, for I am with you; do not be dismayed, for I am your God. I will strengthen you and help you; I will uphold you with my righteous right hand."
We can give thanks because
God never changes
.
God is faithful, unchanging, unfailing. What He says He will do, He will do. Let us be thankful that in the midst of our ever-changing circumstances, God is the solid rock upon which we can stand.
7. Numbers 23:19
"God is not human, that He should lie, not a human being, that He should change His mind. Does He speak and then not act? Does He promise and not fulfill?"
8. Hebrews 13:8
"Jesus Christ is the same yesterday and today and forever."
We can give thanks because
God is working on our behalf.
Even when it seems like nothing is happening on the surface, God is working behind the scenes. He sees the bigger picture. He knows where we've been and where we are going. Trust Him with the details of your life. Give thanks that what He started within you, He will complete!
9. Philippians 1:6
"And I am sure of this, that He who began a good work in you will bring it to completion at the day of Jesus Christ."
10. Romans 8:28
"We know that in all things God works for the good of those who love Him, who have been called according to His purpose."
We hope these verses on giving thanks are a blessing to you. If you're looking for more scripture references, check out 8 Powerful Scriptures to Pray Over Missionaries or these 11 Inspirational Bible Verses About Giving Generously.
❓ Have you purchased your Faith Venture insurance yet? Visit our compare policies page to find the right plan for your travel today!